I'm bored, checking out the Zopa site and the "borrow" tag catches my eye. I click on it and read these enticing words: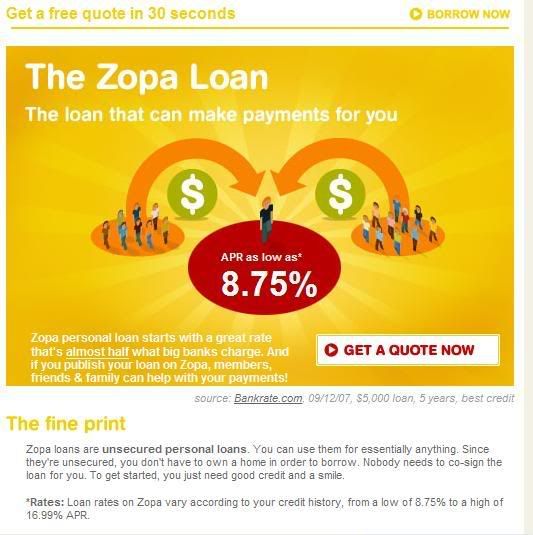 I wonder how much I'll qualify for? After all, I have pretty decent credit, or so the guy who sold me our new car in July told me. He showed me a credit report that had my FICO score at over 800 (the precise number escapes me now). It can't hurt to just click the buttons and see what comes up, can it? No sirree.

A few clicks and questions later, I press the "Apply now" button and am stunned to get the following: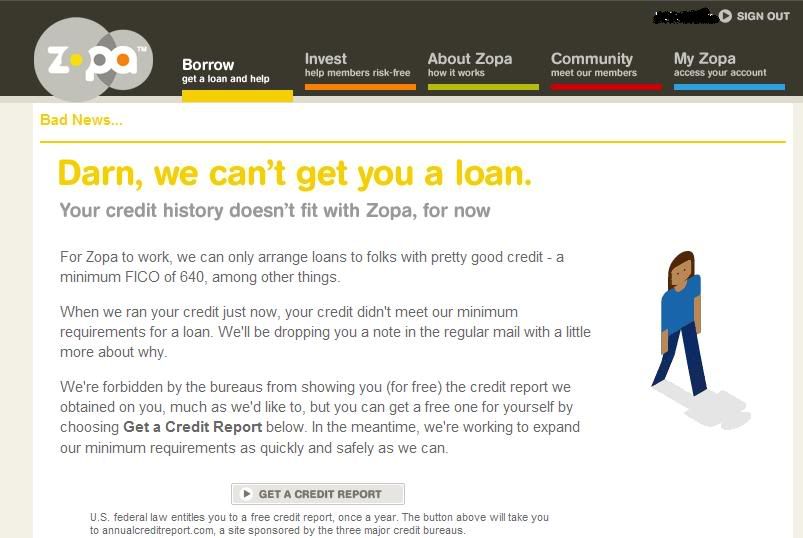 A few seconds later I get the email with the promised "more details on why my loan request has been denied:





Hmmm... particularly enlightening is the reason the loan was denied: Other.

So, perhaps I have a crappy credit score or negative credit details on file with the credit bureau? Let's go and get the details:





Hmmm .. credit score of 797 isn't too crappy, sure, it's down from what I thought it was, must be because I got the credit inquiry on the car and then another credit inquiry when we changed TV providers.

Let's see how things stack up in the other departments, surely somewhere there's something that's bad enough to cause me to not get a quote on a Zopa loan?

Account details?





No, that can't be it, not too crappy, even if I have to say it myself.

There are more details and screen shots, but you get my drift. I have a very good credit record. I've never had difficulty in getting credit when I needed credit. Last time we made use of credit was in 2006 when we took the 6-months-same-as-cash deal on a new air conditioning unit. You can see the details in the above screen shot.

So I decided to make use of the friendly offer to call Zopa's office and inquire.

The Zopa email says their office is open 8am - 6pm PST, Monday to Friday. Today is Monday January 14th. I called the first time at 10:48 am CST which I believe is 8:48 PST. GOt a voicemail that their office hours is 9am - 6pm. Wish they could get the right hand and the left hand to know what the other is doing.

My last call to Zopa was at 11:44 am CST this morning. I still get told to call them back during regular office hours. What those hours are is of course anyones guess.